Green screen productions can be intimidating. But it can also be immensely rewarding, allowing any subject to transform anywhere or into anything utilizing a process called chroma key. The potential that green screen productions allow are endless. The only limitation is wherever your imagination ends. Why is green screening so intimidating? Well, it is not an easy process. However, Bravo Studios are here with a few tips to make sure your next green screen production runs a bit smoother.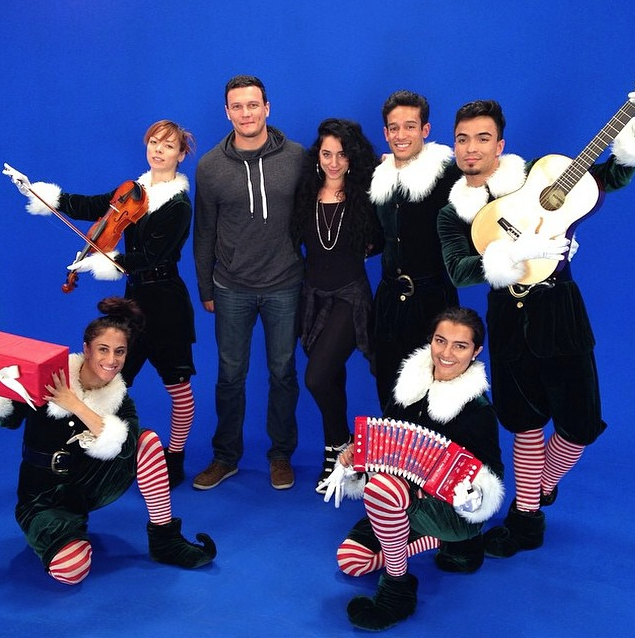 Green screen….or blue screen?
I know what you're thinking – "Wait, there are blue screens out there?" The answer is yes. It can be any color, in fact. However, green is the most used color because green is not present in any skin tones regardless of ethnicity. That is also true for blue, with the exception of talent with blue eyes. It is crucial to consider the colors of the wardrobe, props & set design in choosing the right background color. If your background is green, for instance, the talent should not be wearing green nor should there be plants or foliage in the background. The idea around chroma key is that you want to be able to key (or take out) the green surface areas/background. However, if your production NEEDS green, like on the set of ElfYourself at Bravo Studios where the elves had green costumes, then a blue background is preferred.
Consider the surface
Surface material truly doesn't matter as long as it is one thing – SMOOTH. The green or blue screen can be paper, a painted wall, fabric, or even foam. Just as long as the surface area has no wrinkles or creases. It is also very important that the surface isn't reflective. Many people prefer a painted wall because it is the smoothest and controlled surface.
Let there be light.
Don't just light your subject just to light it. It is very important that you light your space or subject AS IF the space is in the scene you will eventually composite them in. For example, if the subject is meant to be sitting on a beach with the sun setting on the right then you should make sure you light them that way in front of the green screen. Also make sure that green light isn't spilling off the green screen and onto the talent. We suggest keeping the talent as far away from the screen as possible. Another tip is to avoid shadows! Shadows will be very challenging to key out in post.
It's not all about the moves.
For a green screen production, it is vital that everything exists within the green screen environment. For example, if a talent moves his/her hand outside of the green background, then it is almost impossible to fix a missing limb in post-production. We suggest doing a run through before shooting so that you can avoid this. Or make sure your studio space is large enough to make large movements if that is what your creative vision entails.
Don't miss the details
Reflective eyeglasses, reflective jewelry, or even a shiny pen can cause problems in the post-production stage of chroma key. Pay close attention to those little details. Another detail to take into consideration is hair fly away which would also be difficult to key out properly. Have a makeup and hair stylist on hand to tame those pesky fly aways!

For additional questions or booking information, please contact us at info@newyorkgreenscreen.com